Versa Promo
Our mission is to consistently deliver the finest quality commercial printing with exceptional value on time, every time, and to meet or exceed our customers' expectations in order to enhance their business and make them more successful.
We will build lasting relationships through service based on honesty, reliability, professionalism and ethical business practices. We will add value to our service with our years of knowledge and experience, making our customers' print buying process effortless and their investment of time minimal.

We will act as consultants, guiding our customers towards the best print solution and communicate with them effectively to efficiently process their jobs.
Simple put we are more than just ink on paper!
Featured Item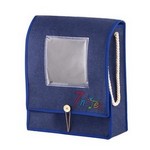 The Splendiferous Bag
The Splendiferous is an exclusive luxury felt display bag with a quality front pvc window that can be used for beautiful packaging or upscale gifting. Brand it with your company logo for a unique holi...